MENTAL ILLNESS
ART THERAPY
PUBLIC HEALTH
Our blog post this week comes to us from Max Maddox - a Denver-based artist, arts facilitator, and the project lead and developer of

ArrayParity

: an apparel campaign for equal treatment, restyling mental illness through the self-emblematic.
Speaking Out, Together
The long term goals of ArrayParity are generative, and speak to the community's growing sense of empowerment:

1) Communicate solidarity before discrimination.

2) Disseminate the voices of those who live with mental illness.

3) Challenge stigma with the compass of image and epigraph.
ArrayParity received a grant from Arts in Society in 2018 to amplify voices of people who struggle with mental illness, through collaboratively designed imagery, logos, and aphorisms for print on apparel, disrupting negative perceptions of mental illness.
Spontaneous Conversations and Solidarity
Standing in the grocery line, staring blankly at the tabloids scattered about, my thoughts about Meghan Markle's uphill climb to royalty were suddenly interrupted.
"NAMI??" the cashier announced, "I know NAMI."
He meant the acronym for the grassroots national organization known as

National Alliance of Mental Illness

. I suddenly realized he was cued by the logo on the breast of my black sweatshirt.
"You know NAMI?" I asked, as I spun around to show him the first ArrayParity production on my back, reading "DECRIMINALIZE ILLNESS".
He smiled and said, "I guess we're doing a lot better than most."
We were holding up the grocery line, but the intended understanding between strangers was already complete. "That much is true," I said.
Actually our community who has gotten involved with NAMI are generally doing better than most, finding support, education, and advocacy; meanwhile many of us in our community who live with life-threatening illnesses are otherwise funneled through the prison system.
NAMI Colorado Springs is teaming up those in our community suffering from mental illness, in a collaborative effort to develop imagery, logos, and aphorisms for mass screen printing.
"Array" refers to the apparel, totes, and stickers that bear our designs, and "Parity", to our efforts for equal rights and healthcare for the mentally ill. We aim to root mental health parity in an effort to overcome the stigma surrounding mental illness, using the creative talents of the mental health community. Together these messages can reach the general public, from through an attitude poised through self­ representation.
Based on my interaction with the grocery store cashier, it was clear to me that we were already opening up conversations around town. With slick design, paired with clever elliptical statements, we intend to point to gaps in civil rights for our community. Last May, we gave away several of our shirts to a hundred of our volunteers and supporting members. A pile went to the police and a pile went to Denver high school students too.
Program participants are creating a variety of colorful designs, which will soon be available for purchase on our ArrayParity website. Take a look:
As I started off with my kombucha and Fritos, I felt like I really had accomplished something. With the ArrayParity project we aim to help overcome the stigma surrounding mental illness using the creative talents of the mental health community.
Our second and third designs are in the hands of clients from Creative Expressions program and the Military Artistic Healing program in Colorado Springs. The savvy Kim Nguyen leads eight such art therapy groups for those living with mental illness at Aspen Pointe and the Fine Arts Center at Colorado College, with support from Americans for the Arts. This crew of creatives are fortunate enough to have a place to make art, while working on recovery. They come on time once a week to get Kim's thoughtful instruction.
The well-tuned group dynamics in Kim Nguyen's classes are testimony to her success with these individuals struggling to find a sense of strong community. We can't wait to see what they come up with as they push along ArrayParity into its second direction, pairing creativity with consensus. You can follow our latest creations on our new Instagram page @ArrayParity!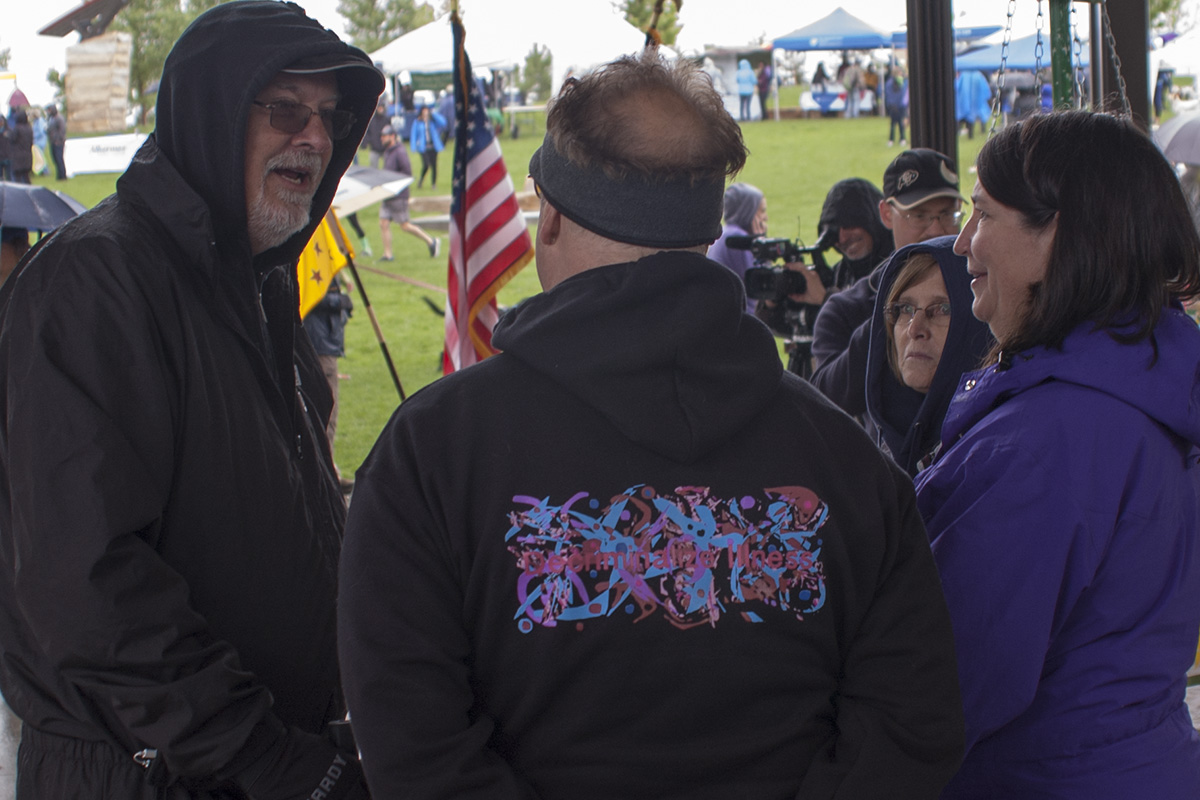 Funding the Arts in Colorado
Since 2016, Arts in Society has been funding individuals, grants, schools and government entities, with two-year grant awards of up to $50,000 per project. In addition to funding, grantees receive training, professional development, and marketing/social media support. Funding is offered to projects utilizing the arts as an integral element in promoting social justice and community welfare.
As a collaborative grant making program, Arts in Society is funded through a cohort of Colorado funders. 2019 funding partners include Bonfils-Stanton Foundation, Hemera Foundation, and Colorado Creative Industries . Funds and support are administered via RedLine Contemporary Art Center in Denver.
Visit the Arts in Society website for more information, and to sign up for our occasional emails spotlighting our grantees, regional events, funding opportunities and more.
Get more of the inside scoop by following us on Instagram and Facebook too.
Contact Libby Barbee, at lbarbee@redlineart.org for more information.
Help spread the word about this project by sharing this blog post!