Making Art Accessible to All Audiences
Have you ever wondered what it's like to run stage lights or a sound board for a theater or live music venue? Or have you imagined how costumes and props could transform you into a character from another time and place?
Driven by a need to make the performing arts experience more accessible and to demystify the magic of their live stage productions, Lone Tree Arts Center (LTAC) opened their doors for a day this summer to local families and community members affected by autism and other sensory processing sensitivities, so they could find out and learn more!
The 1st Annual Sensory Friendly Open House was held on Saturday, July 29th 2018, as a pre-season introduction to the Lone Tree Arts Center. The goal was for families and community members to get comfortable and acquainted with LTAC, before they attend any of the nationally-recognized Sensory Friendly Family Tree performances that are on offer year-round. By inviting the community inside to get a behind the scenes look at the space and technical elements that go into a live production, the hope is that families and community will feel more welcomed and comfortable attending and participating in the center's programs throughout the year.
The program was made possible with support from a grant by Arts in Society, a local program which funds artists and organizations in Colorado, working on solutions to a variety of challenges in our community.
What is "Sensory-Friendly" and "SF Family Tree"?

SF Family Tree presents performances for families of individuals with intellectual or developmental disabilities, autism, sensory processing disorder, or other conditions. SF Family Tree is a series designed to present performances in a relaxed, sensory-friendly way to ensure everyone has access to live entertainment at an affordable rate.
How are Sensory-Friendly shows different from other shows?
Performers modify shows to ensure there are no startling noises or visually over-stimulating components. Our team keeps sound levels lower than normal and keeps the lights in the audience higher than normal, ensuring audience members can see each other. Audience members are free to come and go if need be (there is always a "safe room" available) and are asked to wave hands rather than clapping.
A Welcoming and Inclusive Environment
The day's program was structured around a scavenger hunt so that participants could experience all facets of the Lone Tree Arts Center. Before attending the program, participants could look at a social story so that they knew what to expect when they got here. Upon arrival, families were given a bingo card with instructions on different stations to stop by to experience different facets of the center.
First on the tour was the lighting booth, where participants were able to play with the lights on stage, changing them from red to blue to white to even moving circles of color.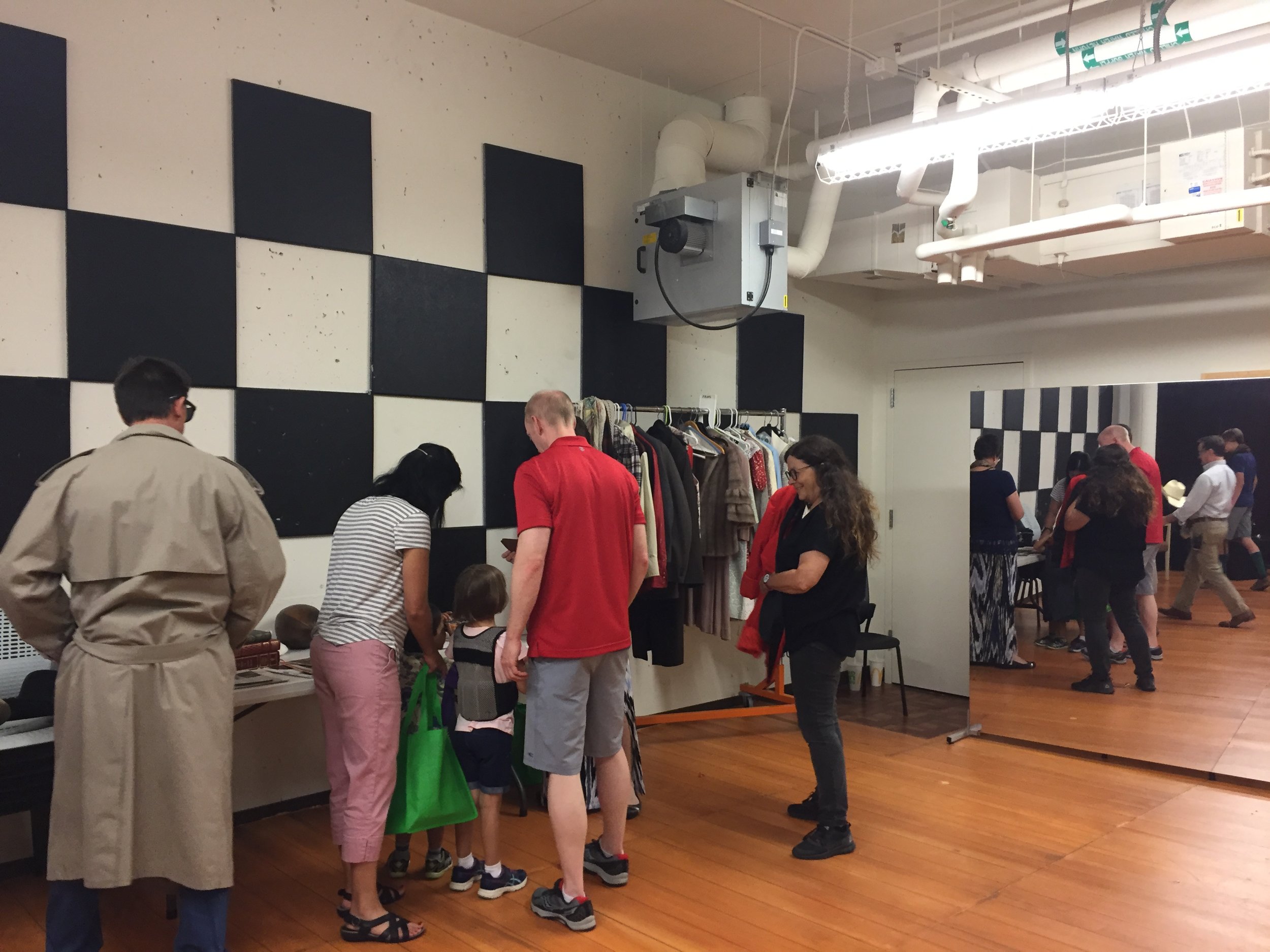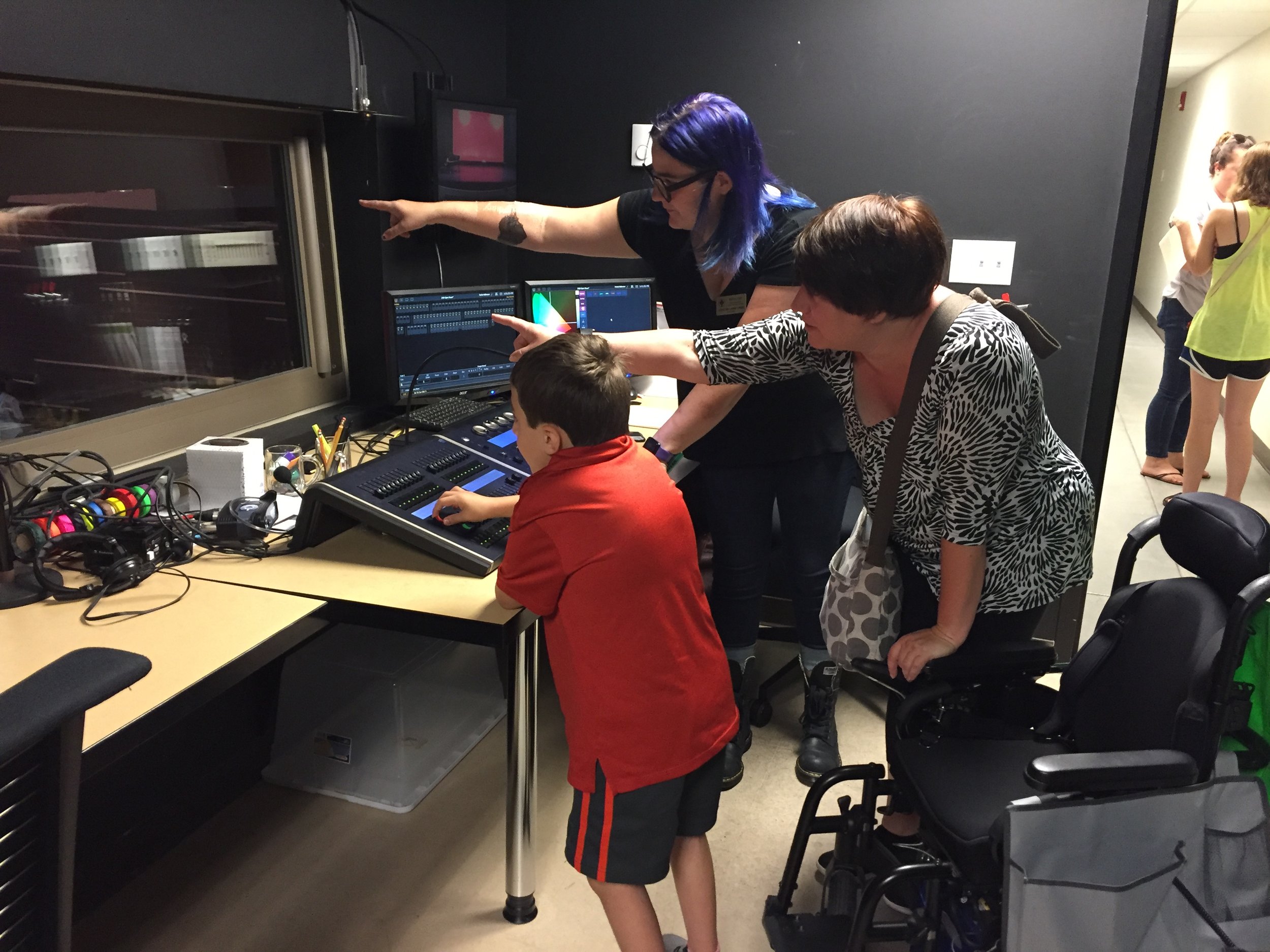 Next they went into the main theater to find a seat, and then on the stage itself, where they could tell their best joke or sing a song while a sound engineer played with their voice, making it high or low or echo.
After that, participants headed into the resource room, filled with other arts organizations and service organizations. Participants then headed outside to guess how many seats our outdoor Terrace Theater holds and to see the beautiful new sculpture in the front of the Arts Center. Finally, everyone headed back inside to enjoy cookies by the Wellspring Community, a local non-profit which supports people with developmental and other disabilities once they have aged out of school that also operates a bakery and cafe. As if that wasn't enough, the Wellspring Wonders chorale also performed twice on the Main Stage!
Given the success of the event, Lone Tree Arts Center plans to hold a Sensory Friendly Open House annually, so that people with autism or other sensory concerns can feel at home at the Arts Center, ensuring that the arts are for everyone!
Visit the Lone Tree Arts Center website to learn more about their Sensory Family Tree program and events.